Playing Deuces and Joker with Wild Cards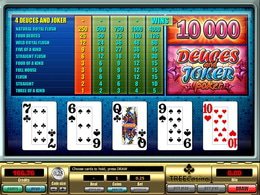 Deuces and Joker wild cards make it a great addition to the current crop of video pokers that players can enjoy. The superdeuceswildpoker.com site offers casinos with this video poker variant. The presence of the five wild cards make it more interesting and gives a player a number of options and more opportunities to win. It's designed by Microgaming, one of the world leader in online casino software.
The options available for players are quite numerable. There are different modes such as an Expert Mode that has the AutoPlay option, enjoy it at Casino Luck. This allows the player to play with less moves by having the software make the decisions for him based on a strategy that call calls for the optimum play based on mathematical computations. There are also speed controls that will allow players to move as fast as they want.
Advantages for Deuces and Joker are their doubling option, five different wild cards, game stats and strategy tools available and Autoplay, you can also play this video poker variant on Mac. Disadvantages are payouts for lesser hands which are relatively low and big dropoff after top two jackpots.
Highest jackpot available is 10,000 coins when you get all the five wild cards, deuces wild video poker can also be played on android. The Royal Flush pays up to 4,000 coins. The game is played with 53 cards instead of 52 which includes the standard deck and the joker. The cards are dealt randomly because they are shuffled before each game. The five wildcards are all the deuces and the joker. The program automatically assigns the wild cards into a best possible winning combination.
Using the + and - signs, you can increase and decrease your bets accordingly. Click Deal and five cards are dealt to you. You can choose to hold some cards and discard others. Click Draw to get new cards. If you choose Autoplay, these decisions will be made for you have a good deuces wild strategy always. Of course, this is only available in Expert Mode. The doubling feature is also a nice addition to this game. After a win, it allows you play for double the amount of that win. You will be dealt with 5 cards, 4 face down and one face up for the dealer. You pick one of the face down cards and if its higher than the dealer's card, you win. You can continue doing this until you lose and can collect your winnings anytime.